Clients and friends of our firm:
The Virus is the Market
After the fastest decline since the Great Depression, anyone desiring to forecast the market's next move must first grapple with an understanding of the trajectory of the virus. At present, the virus simply IS the market. All other factors are dwarfed by comparison. If you have followed our blogs, we hope we have earned a degree of credibility. On January 27, when few were giving the Coronavirus much respect, we alerted our clients that we were deeply concerned about the potential spread of the virus and its impact on the U.S. markets. As a result, we sold stocks, raised a large amount of cash, and adopted an overall cautious investment position. This was contrarian thinking at a time when the markets were still going gangbusters. At the time, there were only 3,000 Coronavirus cases worldwide and 81 deaths. How tame those numbers look now.
Since then, It's been a downward spiral of negative news. Are you now starved for reliable good news? We have it. It's coming from the East and steadily moving westward towards the United States. But before it arrives, it's almost certain the U.S. has some very dark days ahead of her. So let's do it this way; bad news first, good news second.
The Worst Weeks for the U.S. are Beginning
Barring a miracle, it's a virtual certainty that thousands of Americans are going to die from Covid-19 over the next several weeks. In the near term, the number of cases in the U.S. will continue to grow and deaths will follow. Our internal forecast at Blackwell Boyd indicates that by May 31 approximately 20,000 Americans will succumb to the virus. With current American deaths under 900 as I type, our forecast projects an additional 19k American deaths will occur in the next 9 to 10 weeks. Although we believe that for the most part this expectation is now coldly priced into the equity market, we are not sure that the collective American psyche is prepared for this reality. Hospitals in some particularly hard-hit virus hotspots will be stretched beyond capacity. Unfortunately, our worst weeks are just beginning.
Good News Moves West
With that ominous warning of what's soon to come, let me give you the good news. China has now clearly turned the corner in its fight against Covid-19. Likewise, South Korea's daily number of new Covid-19 cases peaked on March 3rd at 851. Yesterday (March 24) South Korea had just 76 new cases. And now we are beginning to see a peak in some European nations. Italy, with one of the worst outbreaks in the world, appears it may be turning the corner. There is good reason to believe that Italy peaked on March 21 with 6,557 new cases. Yesterday's total (March 24) in Italy was 5,249. The attached chart from JP Morgan illustrates where several nations currently stand on the virus outbreak curve. In addition to our focus on the United States, which still is in its Acceleration Phase, we pay detailed attention to two other nations we believe define the upper and lower bands of the range of potential outcomes for what we will see here in the U.S.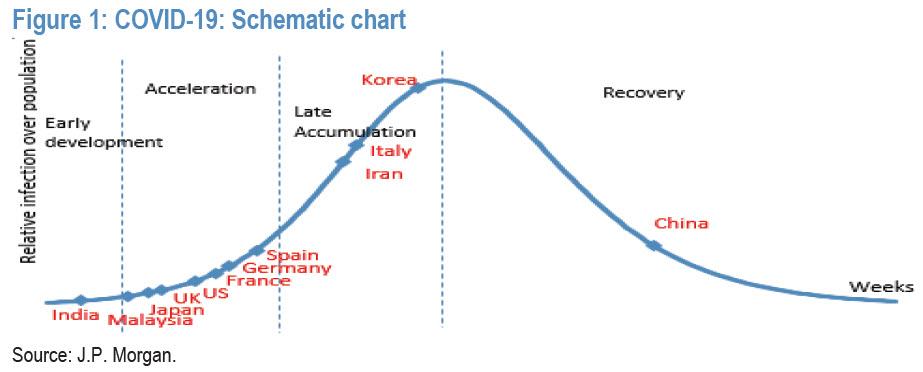 Italy: Either at or close to its assumed peak. Mirroring Italy's experience would be a worst case outcome for the U.S..
South Korea: We would now move them mentally to the right of the apex of the curve on JPM's chart. Mirroring South Korea's experience would be a best case outcome for the U.S..
We are believers in the social distancing measures that the U.S. and other nations have taken. It's prudent to attempt to "flatten" this curve. And yet it's also our belief that to a certain degree the virus is simply going to do what it does, regardless of man's attempt to isolate, sterilize, or wash it away. Without a vaccine, we're vulnerable. That's why the data coming from other countries farther along in their experience is key to understanding our likely future. Unlike China and South Korea that had no model for how long the duration and severity of the crisis would last in their nations, we in the U.S. now have a reasonable guide. To be sure there are still many variables, unknowns, and potential surprises. But we have a clue. They had none.
Some Details on Our Internal Forecast
At Blackwell Boyd, we are neither epidemiologists nor experts in medicine, virology, etc. But we're quite good with numbers and modeling complex sets of variables. Essentially that's what modeling a pandemic takes; skill with forecasting complex variables. Therefore we developed our own model to forecast Covid-19. We update our proprietary model daily. A summary of the most recent version indicates:
The number of Covid-19 cases in the U.S. will peak on or about April 4th.
By May 31, 0.32% of the U.S. will be infected with documented cases of Covid-19. Our projected rates of infection in South Korea and Italy at May 31 are 0.02% and 0.36% respectively.
By May 31, approximately 20k Americans will die from Covid-19.
Will our forecast be spot-on? Almost certainly not. It changes daily as we get new data, particularly from key indicator countries South Korea and Italy. But it does give us valuable insight and a roadmap for what's to come. If you would like see daily updates of our model, please send a note to michael@blackwellboyd.com and simply put "forecast" in the subject line. We'll add you to email distribution. Meanwhile, stay healthy. God bless. There's a better day coming. We're forecasting it.
Jonathan Boyd
Direct: (843) 540-1149